Need your Login Information or to reset your password?
Having trouble logging in? Reset your password here.

If you need help confirming your username or email attached to your eMeals account, please contact Customer Success and we will be happy to assist you.
Having issues with the password reset link on Android phones?

On Android phones when clicking a link, it will ask if you you wish to open a link via Chrome or via eMeals's app. If you previously selected to always open in the eMeals app, it could cause the link to refresh the app instead of opening the reset password link and cause you to go in a loop.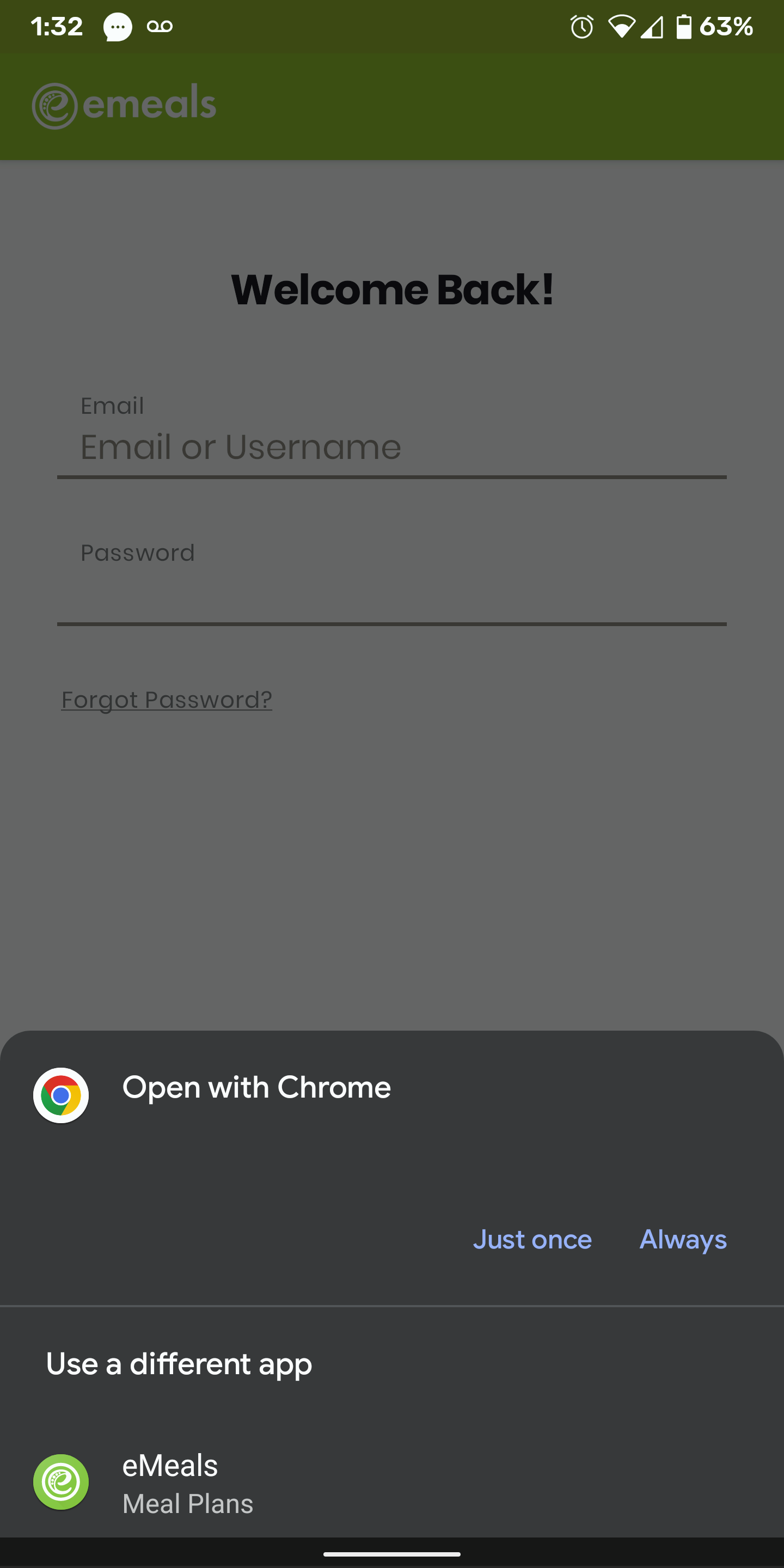 To troubleshoot this issue, please take the following steps:

On the Android device, open Settings from the App Drawer




Tap "Apps & notifications"




Tap "Advanced"




Tap "Default apps"




Tap "Opening links"




Tap "eMeals"




Tap "Clear defaults" button




Navigate back to eMeals and try the "Forgot password" link again. Make sure to tap "Open with Chrome" (or your browser of choice) when prompted.




If you are still experiencing issues, our team will be happy to reset your password for you.
Related Articles

Does eMeals provide nutritional information?

eMeals strives to make eating healthy at home a hassle-free task. At this time, we provide nutritional information for our Keto, Low Calorie, Low Carb, Clean Eating, Quick and Healthy, Diabetic and Heart Healthy plans. Our meal plan writers strive ...

How to access new weekly menus

New meal plan menus are published every Wednesday in the app. If you find that your menus are not updating through the app, be sure to click "Check for new menus" to refresh that data. There are three ways you can access your new weekly menus: We ...

How do you update your credit card for renewal?

Updating your credit card information must be done through your eMeals account prior to your renewal day. To update your Credit Card, follow the steps below: 1. Log into your eMeals account through emeals.com 2. Scroll down to Manage Account 3. ...

How do you reactivate an old/closed account?

We are so happy you've decided to start using eMeals again! Reactivating an old or expired account is easy. Just follow the steps below you're all set to start planning hassle-free dinners again. To reactivate your account: 1. Login to your eMeals ...

How do you download the eMeals app?

We have a dedicated app for both iOS and Android. The eMeals app can be used for any user that has an active eMeals subscription. You can easily download our app by following the appropriate link for your device: iOS (iPhone) - Click Here Android - ...