How do you favorite a recipe?
Inside of the eMeals' app, you can easily save any recipe that you and your family love to use in a later meal plan. In the app, you will see a section titled 'Favorites'. This is where your favorite recipes are saved.

Here is how to favorite a recipe:

1. Click on a Recipe from the Meal Plan screen
2. Click on the heart icon in the recipe bar as highlighted below
3. Access your favorites by clicking on the Favorites icon from the app. You can also search within favorited recipes!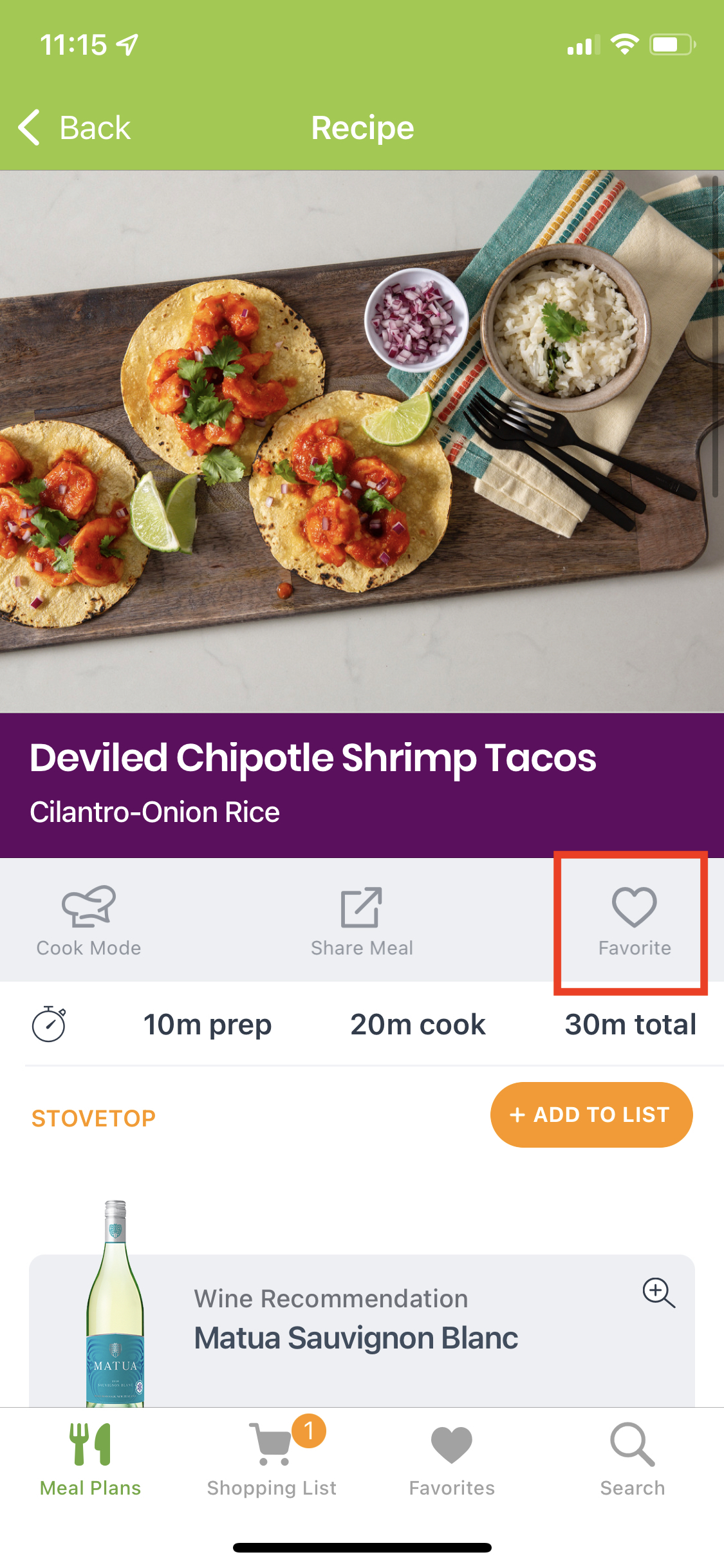 Related Articles

How do you share a recipe from the app?

Yes! If you love a recipe and want to share it from your eMeals app, no problem! Once you are inside the recipe, you will see an icon to share that recipe. The icon placement may vary depending on your operating system (iOS or Android.) Once you ...

How can I search for recipes in the app?

eMeals search (in beta) allows you to search eMeal's library of 20,000+ recipes to find a meal your family will love. You can search for a text string or browse suggested recipes based on Meal Ideas. Access the search feature by clicking the ? on ...

How can I share eMeals recipes with My Fitness Pal?

Helping you maintain a balanced diet is important to us at eMeals! You can easily share any eMeals recipes to the My Fitness Pal app to get a full nutritional breakdown. Just follow the steps below: 1. Open the eMeals app and access the recipe you ...

What is Cook Mode?

Note: Cooking mode is only available in the mobile app. The eMeals app is designed to make dinner time hassle-free, and our cook mode was crafted with that in mind. Use this feature to keep your device free of any spills or splashes with clear, easy ...

Does eMeals have a free trial?

Yes! eMeals offers a free 14 day trial to new eMeals users. Click here to get started today! Don't forget to connect your favorite online grocery store to experience the real value of what eMeals has to offer. To manage your free trial, ...