How do you change your primary plan?
How do you change your primary plan in the app:
You can now easily access multiple food style plans without having to switch your primary plan. But if you'd like to change the view of your primary meal plan simply follow these easy steps:
1. Click on 'Account' from the eMeals app.

2. Under 'Your Subscriptions,' you'll see your primary dinner plan (add-ons will be listed here as well.)

3. To change your dinner plan, click 'change' to the right and you'll be directed to a list of all our food styles.

4. Select the new food style you'd prefer, choose your serving size, tap "Choose this plan" and this will become your primary plan. (While you will always have a primary plan, remember, you have access to ALL recipes from every food style!)
How do you change your primary plan on the website:

You can change your meal plan style as many times as you would like in the 'My Meal Plans' section on our website. You can also preview the current week's plan before switching to it.

Follow these simple steps to switch your plan from the website:

1. Log into your account and click on 'Need More Dinner Ideas?'

2. Click on the meal plan you wish to change to.

3. Click on click on 'Switch to this Meal Plan'

4. Confirm family size.

5. Click on 'Choose this Plan'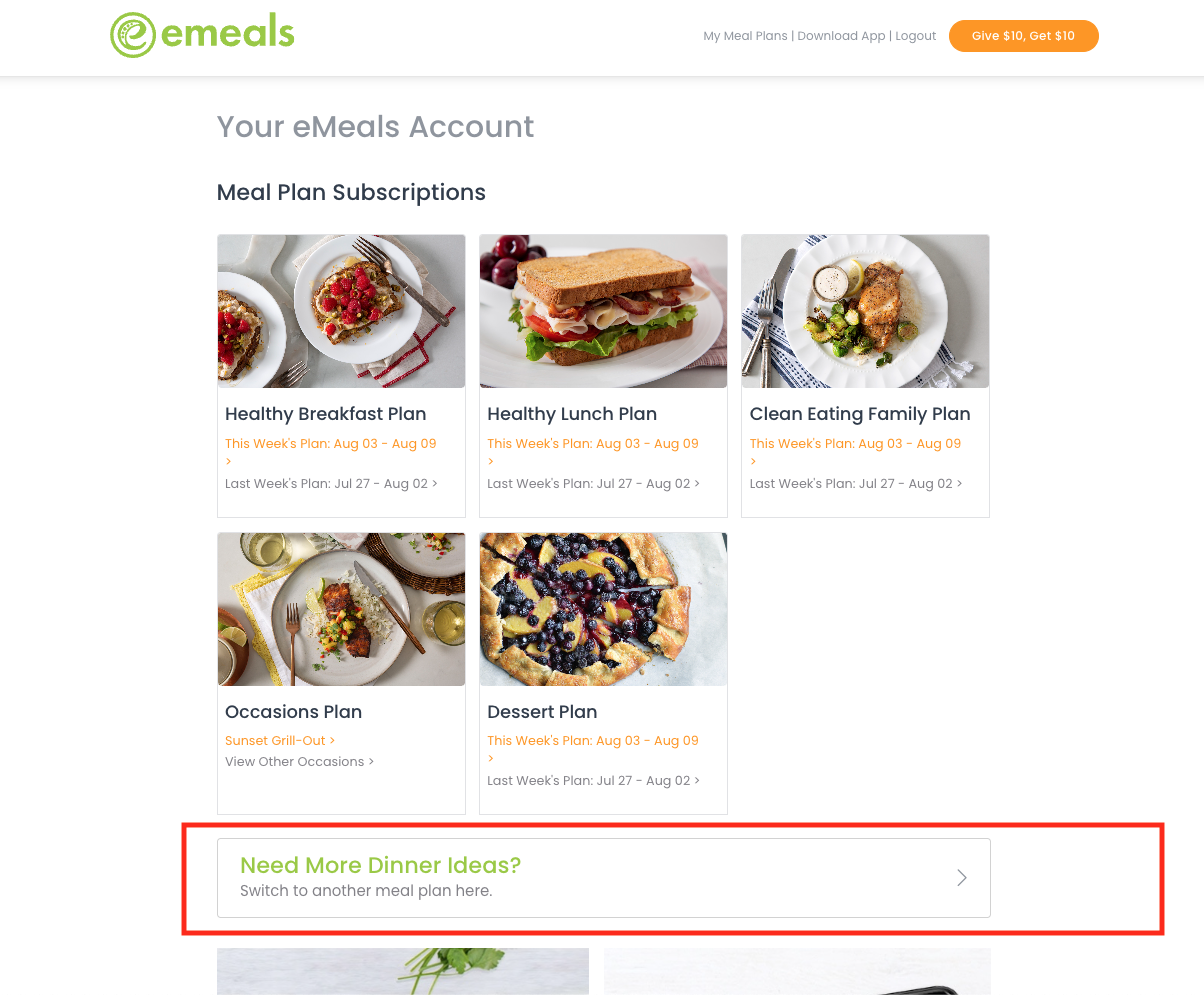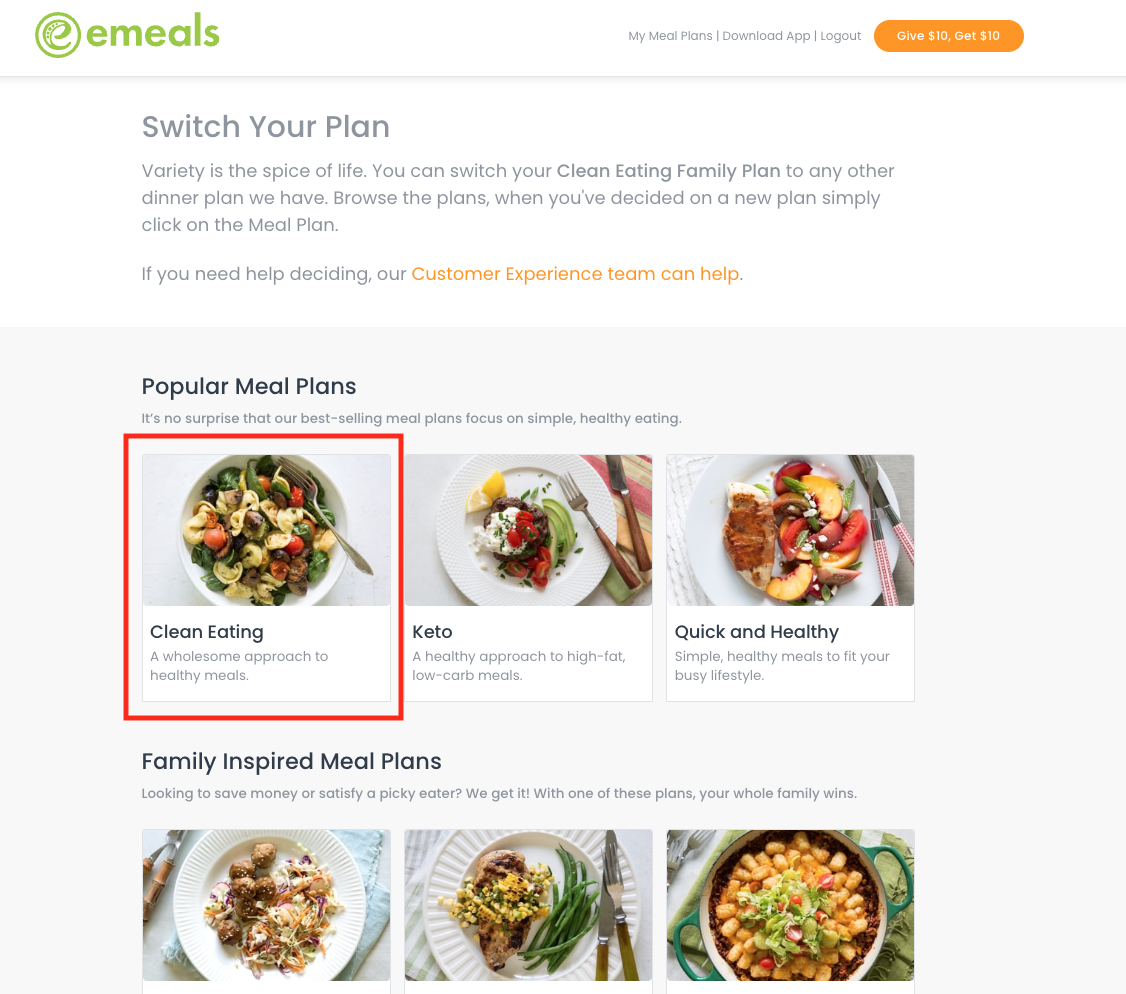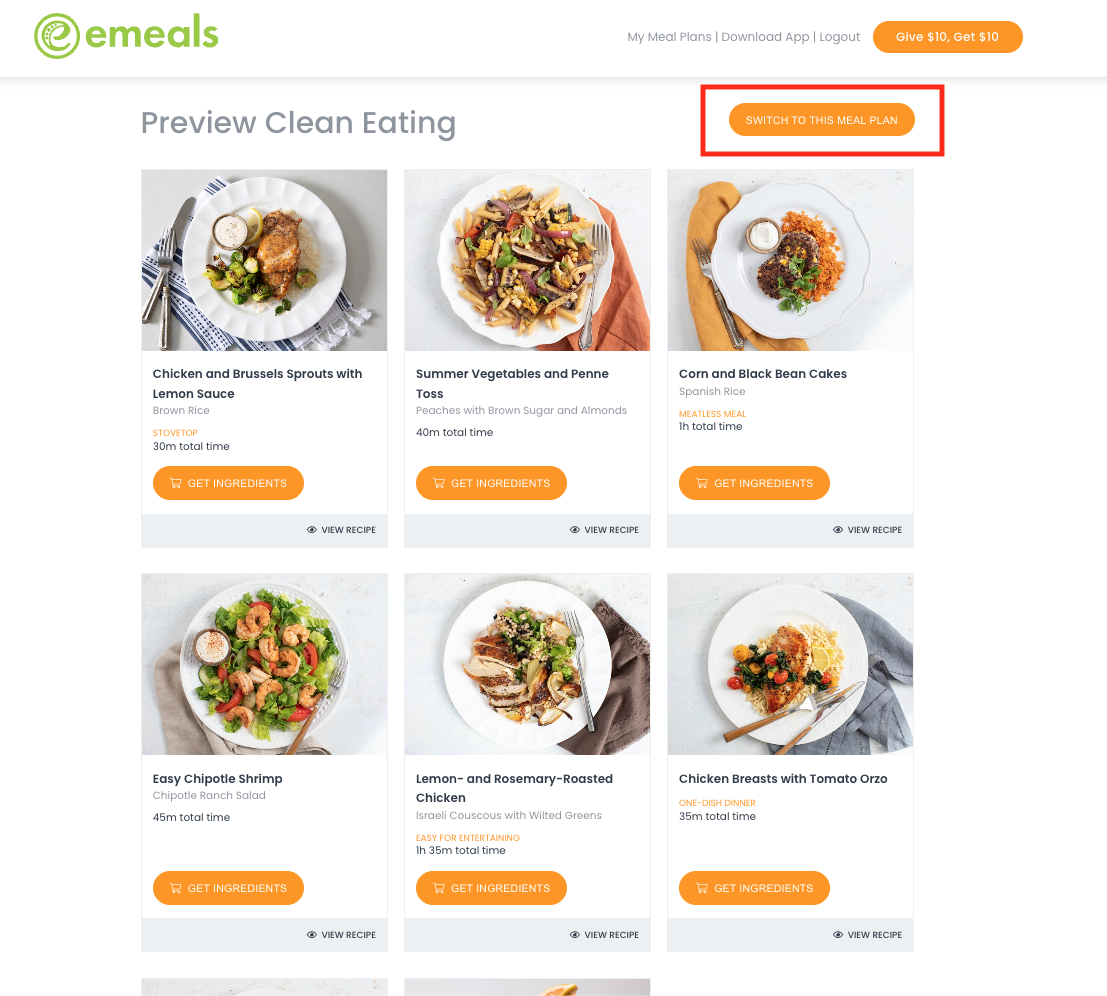 Related Articles

Can you access more than one plan at a time?

Yes, you can access more than one meal plan! As a member, you have UNLIMITED switching. You can switch your plan as many times as you would like in the 'My Meal Plans' section of your online account or in your Android or iPhone mobile app. Click ...

How do I build my weekly Meal Plan?

Each week eMeals uses publishes 7 new recipes per meal plan giving you new inspiration weekly without overwhelming you with options. ​ #1 Start with your Dinner Plan Each week you will get 7 new recipes on your primary meal plan. Start here and ...

Can I get my weekly meal plan menu emailed to me?

Yes! You can have the primary meal plan you subscribe to emailed directly to you each week. eMeals publishes new plans on Wednesday mornings into the app, but you can opt into having the email sent to you on any day you wish. Simply check the box ...

How do you change your grocery store?

Do you use more than one grocery store for online shopping? Easily switch between grocery stores by navigating to shopping list tab by clicking on the shopping cart on the bottom bar of the app. Under the Online Grocery Shopping section, click ...

Which Meal Plan is the Best Fit for Me?

With so many meal plans to choose from, it can be difficult to decide on an eMeals plan that best fits your needs. That's why we've decided to make things simple for you. Are you Looking to Eat Healthier? Quick and Healthy If you're looking for ...