How can I search for recipes in the app?
eMeals search (in beta) allows you to search eMeal's library of 20,000+ recipes to find a meal your family will love. You can search for a text string or browse suggested recipes based on Meal Ideas.

Access the search feature by clicking the 🔎 on the bottom navigation bar in the app. You can use the search a few different ways including:

The Search Bar: type the title of the recipe or ingredients you have on hand in the search bar to display results

Quick Search by Protein: use the protein buttons to quickly search for meals based on protein such as chicken or tofu.

Meal Ideas: use the meal tags to search for more broad meals such as 'on the go,' 'classic favorite' or meatless meals.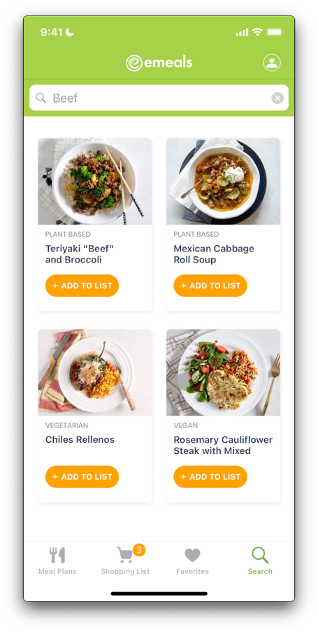 Currently the Search function for the eMeals app is in beta and available only on iOS Version 4.9 or higher. Check the latest iOS version
here
. The feature will launch on Android in the very near future.
Related Articles

How can I share eMeals recipes with My Fitness Pal?

Helping you maintain a balanced diet is important to us at eMeals! You can easily share any eMeals recipes to the My Fitness Pal app to get a full nutritional breakdown. Just follow the steps below: 1. Open the eMeals app and access the recipe you ...

How do you download the eMeals app?

We have a dedicated app for both iOS and Android. The eMeals app can be used for any user that has an active eMeals subscription. You can easily download our app by following the appropriate link for your device: iOS (iPhone) - Click Here Android - ...

How do you share a recipe from the app?

Yes! If you love a recipe and want to share it from your eMeals app, no problem! Once you are inside the recipe, you will see an icon to share that recipe. The icon placement may vary depending on your operating system (iOS or Android.) Once you ...

How do you favorite a recipe?

Inside of the eMeals' app, you can easily save any recipe that you and your family love to use in a later meal plan. In the app, you will see a section titled 'Favorites'. This is where your favorite recipes are saved. Here is how to favorite a ...

How do you complete grocery checkout with Kroger?

Send your shopping list over to Kroger (or any of their banner stores including FredMeyer, Fry's,, King Soopers, Pick'n Save, Ralphs or Smith's) in a few easy steps. Once you've added recipes to your shopping list, navigate to the shopping list icon ...